Heroine Miya George Interview
Heroine Miya George Interview
22 Feb,2017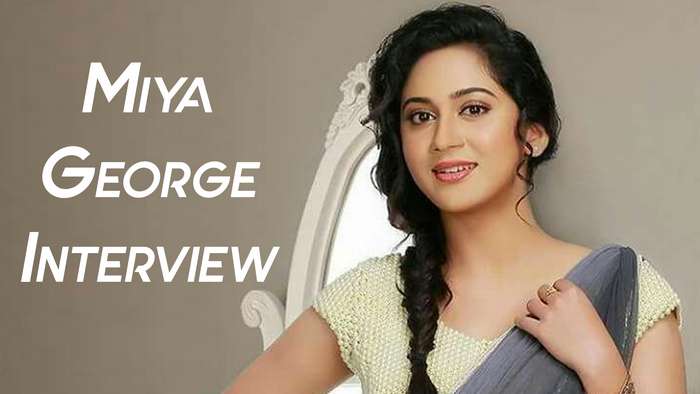 'Yaman' is the success of the film and the heroine is a good heroine for me - heroine Miyazzar
The beauty of the actress is the actress Miyazzar. Majajar is the best performer in Malayalam and Tamil and has acted in more than 20 films and has acted as heroine in the movie 'Wankarala Rambabu'. At present, the movie is in the shooting stage. Meanwhile, Vijay Antony is the heroine of Miyazhara Ravindar Reddy in the movie 'Yeman' directed by Vivek Antony. The film is being co-produced by Sivasala Sai Kumar Reddy on Diwarka Creations and Lyca Productions, which will be released on February 24th as Worldwide in Telugu and Tamil. The film is a suspense thriller in the political backdrop of Vijay Antony in the dual roll. The recently released audio is a good response to the trailers. Interview with heroine Miyazzar during the release of the film.
About your background?
- Our home near Kottayam, Kerala. I have acted in 20 films in Malayalam and Tamil.
How did Chance star in 'Yaman'?
- I have made a movie in Alairdi Biobankkar Direction. Vijay Antonigirai made Biobankar first movie. Now with Vijay Antonigarh, we are doing a second film with Biya Shankar in our two combinations with me.
How is your character in this movie?
- I played the heroine role in this movie. My character's name is Anjana. A girl who lives in a simple life while acting in cinemas. Very typical girl.
How will this picture be?
- It's a political thriller movie. Until recently, there have been many pictures in the political backdrop. But the film is very different. Hero characterization is very strong. Punishment element is very different. Seen then comes into the Curiosity Audience of What Seen What Comes. This film is so interesting.
How is Vijay playing with Antony?
- Very nice person Vijay Antony. Music director, sound engineer, hero. He is a multi-talented person. A good number of good stories, winning a succession of heroes, got a good reputation.
About Making Mysore Ravindar Reddy?
- Ravinderarreddi is the producer of Perfect Planning. What is the image of the film, the person who knows how to promote the film. Producer who is a good future. He is lucky to make this film in his banner. Yaman is promoting the picture as an expert. The film is a good success and a good name for me as a heroine.
Do films as Continued in Telugu?
- Definitely. Earlier, I was scared of the language problem. Now I am learning a little bit of Telugu. Regularly making films in all languages ​​and I want to get special recognition.
How Wisdom Rambabu is going to be
- Clean Family Entertainment Movie. The sentiment and comedy are all elements of the film.
Who is the hero and heroine you like best?
- Like all the heroes. Each hero has one element. They will act in the character they play and connect to the audience. My favorite hero is not one. I am very fond of Nithya Menon as heroine.
What kind of characters do you want to do?
- I want to act in the characters that have scope for performance. Unlike the regular heroine, I have a special identity.
What do you prefer most to?
- Basically I'm a classical dancer. Western dance too. I have been coaching at Sharif Master in Tamil. I acted in the solo song in this film. Fostetam Solo Song in my four years career gave me a great experience. Crass and emotional scenes are the most suitable for concentration. But it's hard to dance. Both of them acted in the film making a balance.
What's the Next Movies?
- Discussions are going on. The interview ended up saying nothing was final.
Attachments area
Recent Interviews