Interview with director K. Raghavendra Rao
Interview with director K. Raghavendra Rao
11 Feb,2017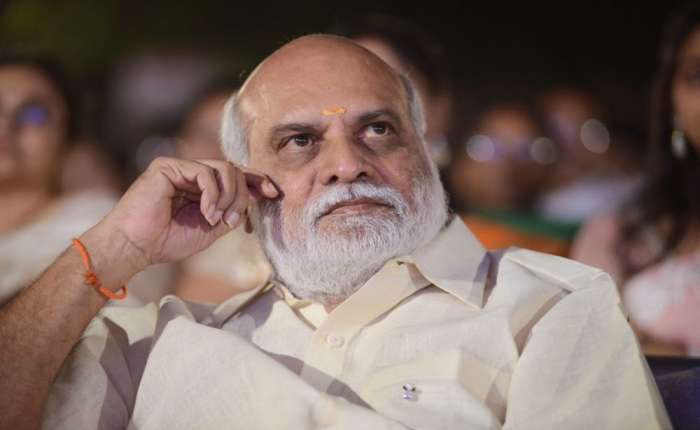 Akkineni Nagarjuna, director K. Raghavendra Rao, Bhakthirasan images in the combination of Annamayya, Sriramadasu and Shirdi Sai. Again, the combination of Hothiram Baba in the combination of 'Om Namo Venkatesheya' is another devotional film. Saikrupa Entertainment Pvt. The film was produced by A.Maheshreddi on the banner of the film and the censor programs were completed and the Clean 'U' certificate was received. Sensor members who have seen the movie have created a great devotional image and praised the filmmakers. The film is going to be released on February 10, with all the shows being released. Interview with director K. Raghavendra Rao
Do not match the two ...
- Annamayya, Om Namo Venkateshayi films are the two devotees of Venkateswaraswamy. But 'Annamayya' is the story of the devotee who is completely devotee. 'Om Nam Venkateshaya' is also a temptation of the devotee, in which Venkateshwara Swamy is another new perspective of friendship. The emotions in the story are different and do not match the two films.
Do they know ...?
- It's important to know the essential elements of our story. With that information, some cinematic liberty made a film with a fiction. That's not all that happened in the film, but the information we know is somehow added. In the film, the final part of the film was dramatized as a movie. Such films are going on.
Never agreed before ...
- Nagarjuna has said that he is not in the film compared to Annamayya. But I told him the story before. I heard the story well. He listened to me very well. The climax of the film is as highlight as the climax of the film is good.
No one except Nagarjuna can ...
- Nagarjuna muttered in my mind while writing the story. If Nagarjuna does not agree, I will not do this film.
God Himself Made ...
- Nagarjuna with Om Nagar Venkateshaya is doing the movie that seems to have been written by the Lord. Nagarjuna is recognized for everyone. His performance as Ram Baba in this film is awesome. When some scenes are removed I will not be too emotional and cut. Looking at everyone in the set, Ram Baba is seen. We are fortunate to have such devotional images in our combination. There is nothing that I can do with the devotional images. Any director can do anything. Not only devotional films but real life stories, mythology etc. There are a lot of stories that show our culture and traditions. With the technology available now, all the directors can make these films.
The risk is not ...
- There is no risk. To tell the story, a story with a good emotion tells viewers that it's a janar movie. There is a belief that this film will be connected to a commercial who loves the most commercial films. Om Namo Venkateshaya story is like that. Making a lot of minds in mind. Cameraman S. Gopal Reddy, art director Kiran has been selected for a few thousand kilometers back to Chikmagalur and Mahabaleshwaram locations. I, along with writer Jake Barevi, worked here with the Costumes, who were constantly struggling to make the story cinematic. After going to the sets, the film is complete without a disturbance.
Do not think so ..
- So long as I have been told by God that all my life is going to happen. But this is the biggest director of today. 'Om Nam Venkateshaya' is not my last movie. That is not what the Lord knows
Recent Interviews