Jeevan Reddy "chor Bazaar" Director Interview
Jeevan Reddy "chor Bazaar" Director Interview
20 Jun,2022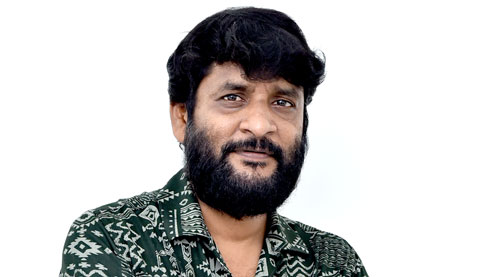 Named as a talented director with the films "Troop", "George Reddy"
Jeevan Reddy. Akash Puri is the new one he has created as a hero
The movie "Chor Bazaar". Gehana Sippy played the heroine. UV Creations
Produced by VS Raju under the banner of Ivy Creations, the film is presented by the company
Advancing the audience on the 24th of this month. Movie news on this occasion
Said Jeevan Reddy. He said.
- Unlike my past films Dalam, George Reddy created Full Entertainment
Image, An entertaining movie without bloodshed
Screened this picture of what you want to do. This is a George Reddy movie
The pre-prepared story then. Each frame is colorful. About 35
Days were spent shooting at night. However, all the scenes are bright and colorful
If it is full, it is because of the talent of our cinematographer Jagadish.
- I used to go to Chor Bazaar. The nature of the people there
Impressive. They do not steal things. We were knocked down
The goods are collected and sold there at low prices. Our film shooting
Most of the goods were loaded from there. Nothing
They are unrecognized human beings. Aadhaar cards are also not available. Them
If asked we would be upset that we do not have the minimum recognition like the right to vote.
Similar elements are mentioned in the film.
- The people I saw in Chor Bazaar were doing business all day and all-day
Fall asleep. Life during the day and another life at night. Each
Everyone is a fan of each and every hero. To the hero in our film with that spirit
We named it Bachchan Saab. Videos he makes for records are viral
Become. All the characters in this movie are close to natural and full
Are going to be commercial.
- Reason to give the heroine a dumb character. Even if she doesn't get to talk
Now technology, talk through social media. He is anything
Listens to the dialogues of the movies when you want to tell. Cinema
Mainly a love story but revolves around a precious diamond. One hundred
Even if the diamond worth crores of rupees is gone, it is still in the Chor Bazaar
Appears. But the people there do not know its value. Ten
Sold for Rs. Drama and fun are created around this diamond.
- Akash Puri did one hundred percent justice to the role I thought. He
Perfect for voice, action, dances, and performances in songs
Bachchan played the role of Saba. I pretended to say what I was told.
Coming to the set before me. A hero with so much commitment. Puri
If Jagannath thinks he is a good man then Akash is even icier than him
Seemed. If Puri meets Jagannath to tell this story .. two
Did you even think that the movies were made?
They put so much faith in us.
- I do not want to cash in on success. That craze after George Reddy
Friends say did not use it. That's my nature. Like the mind
Screening stories. Career calculations do not come. Movies
Otherwise, the settlers would be farming. With full dedication to every film
I work.
- I have a teacher RGV..but I have a friendship with every director in the industry.
Call and talk. An interesting project coming soon
Going to do it. Those details will be revealed in a few days.
Recent Interviews