Padmavathi Movie Review
Padmavathi Movie Review
25 Jan,2018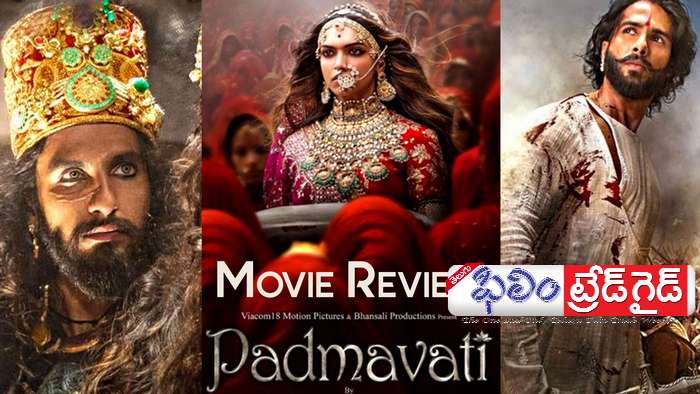 Padmavat - The majesty of the Rajput women
Banner: Bhansali Productions and Viacom 18 Motion Pictures
Story - Dialogues: - Sanjay Leela Bhansali, Prakash Kapadia
Editor: - Jayant Jadhar, Akiv Ali
Music: Sanjay Leela Bhansali, Sanchi Balhara
Cinematography: - Sudip Chatterjee,
Producer: Sanjay Leela Bhansali, Sudhana, Ajit
Story, Direction: Sanjay Leela Bhansali Release date: January 25, 2018
Cast: Deepika Padukone, Ranveer Singh, Shahid Kapoor and others.
The Padmavathi sensor in the news of the controversial film of Karai Sena and Rajputs across the country is finally ready to be renamed Padmavat with their restrictions. The media show them exclusively. Let's look at the features of this film.
Story: - Sufi poet Malik Mohammed Jai's novel "Padmavat" based on the fictional history of the film "Padmavat".
Feminist and ali Udhin Khilji, who is also a killer of his own for power.
Padmavathi is the princess of Sinhalese. Super glow
Rewan Sen, the king of Mewad, comes to the Sinhalese country and comes in love with Rani Padmavati. She will marry her and marry her.
Raja Ratan Singh will be sentenced to royal boycott by Rani Padmavathi's command to the royal tutor Raghav Chetan who was enthralled by the Maharani.
The royal teacher, who left the kingdom with shame, alludes Uda Udhin Khilji, who is waging war with the country's desire, describes Padmavathi's superior beauty.
Did the Ala Uddin Khilji win the battle to win the Mewad territory and win the Rani Padmavati? The favorite queen of the Rajput Rani Padmavati Panth Nigaginda is to look on the silver screen.
Plus points: -
* Play amazing screen
* The royal cousins, the royal palace like the Chandamama story, the huge settings and the war scenes have vanished.
* Ranveer Singh starring ala Uddhin Khilji as a strong villain Shahid Kapoor acting as Rajput Raja as Vishwaroopam
* Deepika Padukone acting as a glamorous cinematographer, along with Chalakkyam, as well as an intellectual, hunta, queen.
* Cinematography, background music, climax that moves everyone's heart.
Minus Points: -
* First half except the interval twist is very slow.
* Bhansali is the emotional drama on the scale of past films, and the absence of romance.
* In the story, the clarity in the narrative comes down to the feeling that the movie is going to be reduced.
* The war scenes seem dull.
Review: - Controversial elements such as Sati Cooperation, Sanjay Leela Bhansali has written a very clever script written by a very intellectual, not to disturb the historical values ​​of the Rajputs. It is good to see a historical truth as a fascinating story and a way to protect the hymns of Sturries. It is a wonderful cinematography that leaves the narrow mindedness.
Recent reviews